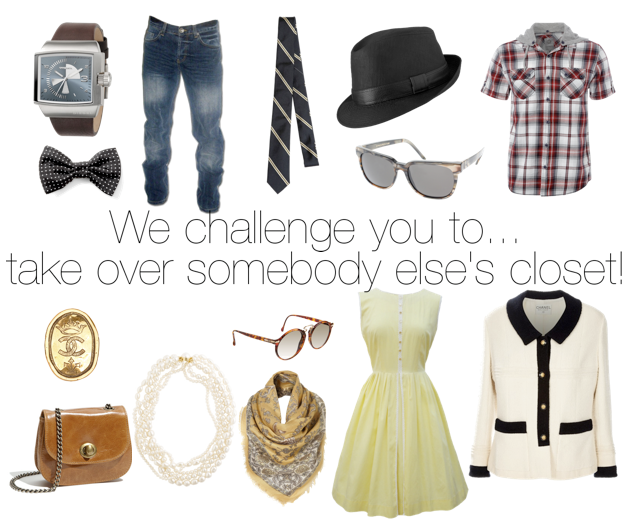 Previous Challenges:
What's "I challenge you to..."? It's weekly special where we (
Flor de Maria Fashio
n & I) challenge our readers and bloggers around the globe to wear specific trends- and we would love if you could join us. Every Tuesday we'll publish the next challenge, and then on Mondays: we'll show you how we wore the trend and you'll be able to share your link&outfit. We were inspired by "Bloggers do it better" but we want to give our own twist to it!
Next week's challenge
: (07/05/2011 - 07/11/2011) We Challenge you to … Take over somebody else's closet!
We are super excited about this challenge and we hope you like the ideas as much as we do. We think this is going to be one of the most fun challenges , because you get to take over your mom's, dad's, boyfriend's, sibling's, friend's closet! This is your perfect excuse to wear their clothes. Sounds like fun right? It is up to you, if you dress from head to toe with someone else's clothes or you mix their clothes with yours. Are you in?
______________________________________________________________
RETOS PASADOS:
-

FALDAS LARGAS
.
¿Qué es " Te reto a...." ?"Te reto a..." es una sección semanal donde retamos
(Flor de Maria Fashion
y yo) a todas las bloggers y lectoras a usar ciertas tendencias- y nos encantaría que nos acompañaran. Cada martes publicaremos el reto, y el lunes de la siguiente semana, compartiremos como lo usamos nosotras y pondremos un espacio para que ustedes dejen el link de sus artículos. Esta idea fue inspirada en "Bloggers Do It Better"- pero queremos darle nuestro toque único y personal. Queremos que las latinas y bloggers de habla hispana participen y que sea algo semana. Esperamos que les guste la idea.
El reto de la proxima semana: (05/07/2011- 11/07/2011) Te retamos a .. atacar el closet de otra persona!
Flor y yo estamos super emocionadas sobre este reto, y esperamosque a ustedes también les guste la idea.. Creemos que es uno de los más divertidos que hemos hecho hasta el momento- ya que vas a tener la excusa perfecta para atacar el closet de tu mama, papa, novio, amigas, hermanas, etc. y ponerte la ropa de ellos. Es decir, puedes combinar tu ropa con la ropa de otras personas, o vestirte de pies a cabeza con ropa ajena! ¿Qué te parece? ¿Te animas?