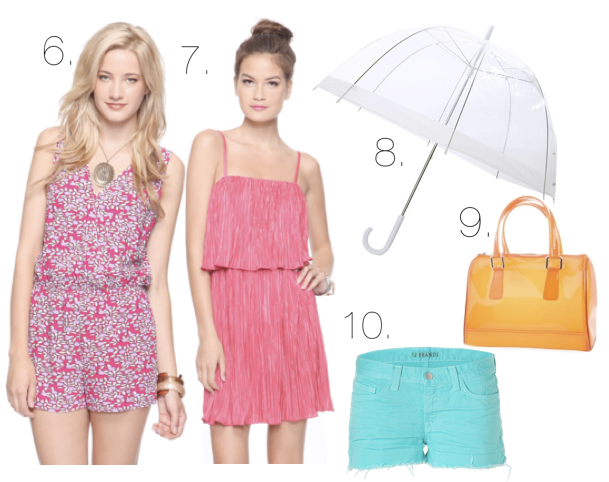 I really like doing monthly wishlists because it gives me an idea of what I want/need- so when I go shopping I have an idea of what to look for.
1. White lace dress: I felt in love with this dress from Forever 21- but it's sold out! I've been looking everywhere for a similar style.
2. Nude wedges: sometimes I feel like my black or brown wedges don't go with what I want to wear, the nude color makes my legs look longer and it's perfect for the hot Miami weather.
3. Wide-leg jeans: this is the second time I've added those jeans to this list. I'm very picky when it comes to jeans- specially since I don't wear them often. I really like the 70's feeling and I want to add them to my "klozet".
4. The Essie Braziliant summer collection: look at those colors, do I need to say more!?
5. Nude flats: they are super casual and they go with everything!
6. A pink-ish romper: I loved how Kourtney Kardashian wore a similar romper with a white blazer- it looked amazing. I really want to steal her look, and this one is very versatile.
7. A Halston inspired dress: remember the purple dress SJP wore during SATC2? This one is very similar and just twenty-something dollars.
8. A transparent umbrella: It's so rainy in Miami during July- I want to get a super stylish umbrella, and a transparent one goes with absolutely everything.
9. A Furla Candy bag... or this one for less. I love the Candy bag, but I hate the price tag (it's around $200 and it's sold out everywhere). Romwe just started selling an identical looking bag for $77.
10. Bright & colorful shorts!
((Sigue leyendo para leer esta lista en español)))
Me gusta mucho hacer estas listas mensuales ya que siento que me organizo y cuando entro a una tienda se lo que estoy buscando- y así no me antojo de cosas que no necesito.
_______________________________
1. Un vestido de encaje blanco: me enamoré de este vestido de Forever 21, pero está agotado. He estado buscando en todos lados un modelo similar pero nada que lo encuentro (si han visto alguno, avísenme!!)
2. Plataformas color nude: este color hace que tus piernas se vean larguísimas, y hay días que mis pumps nude son muy formales para lo que quiero utilizar.
3. Pantalones acampanados: es la segunda vez que pongo estos pantalones en mi lista. Son super exigente con los jeans y no he encontrado unos que valgan la pena.
4. La colección Braziliant de Essie: mira los colores!! creo que no tengo que decir más nada.
5. Flats color nude: dependiendo con que las combines se ven elegantes o casuales- y el color va con todo.
6. Un romper con todos rosados: he estado buscando un romper con estos colores ya que tengo varias combinaciones en mente- especialmente una que le vi a Kourtney Kardashian con un blzer blanco.
7. Un vestido como "Halston": ¿se acuerdan del vestido morado que utilizó Carrie en Sex and the City 2? Este es bastante parecido y solo cuesta veinti-algo dólares.
8. Una paragua/sombrilla transparente
. Estos meses son super lluviosos en Miami- me encanta este modelo porque combina con todo (también las de Gossip Girl usaron un modelo similar la temporada pasada).
9. La cartera Furla Candy... o una por menos. Me enamoré de esa cartera pero odié cuanto cuesta (es plástico y cuesta $200- aparete que esta agotada en todos lados). Romw acaba de empezar a vender un modelo idéntico por $77.
10. Shorts de colores vibrantes.
______________________________________
What's in your July wishlist?
¿Qué hay en tu lista de compritas para el mes de julio?