Before heading to the awards, I wanted to take some pictures of my outfit at the hotel lobby- I didn't want to take my bff's huge camera. I had so much fun, we got to see the celebrities at the red carpet: we took pictures, videos, and we talked with them a little. The show was amazing too, I loved the performances- specially Don Omar's and Pitbull's. Then, we headed to the after party, I had to leave extremely early because I'm having a family trip this weekend. I'm so grateful that Telemundo invited me to be part of this opportunity! About my outfit: this dress used to be my mom's. She wore it to a wedding 20 years ago, I took it to a tailor because it was LONG and it was a little big on my. I paired it with a simple black blazer to balance out the shiny sequins! Have a great weekend! xoxo
Antes de salir para los billboard, me quise tomar unas fotos detalladas del outfit en el lobby del hotel ya que no quería llevar la cámara grande para los premios. De verdad que la pasé buenísimo, pudimos ver a los artistas en la alfombra roja: tomarles fotos, videos y hablar un poco con ellos. Luego disfruté muchísimo el show, especialmente las presentaciones de los cantantes. Después fui un ratito a la fiesta de Telemundo pero me tuve que regresar rápido porque tengo un viaje familiar este fin de semana! Ya veran fotitos. Estoy super agradecida con Telemundo por esta oportunidad! Sobre mi outfit: este era un vestido que mi mamá utilizó hace 20 años en una boda- lo corté muchísimo porque era EXTRA largo. Lo combiné con un blazer para equilibrar el libro de las lentejuelas! FELIZ FIN!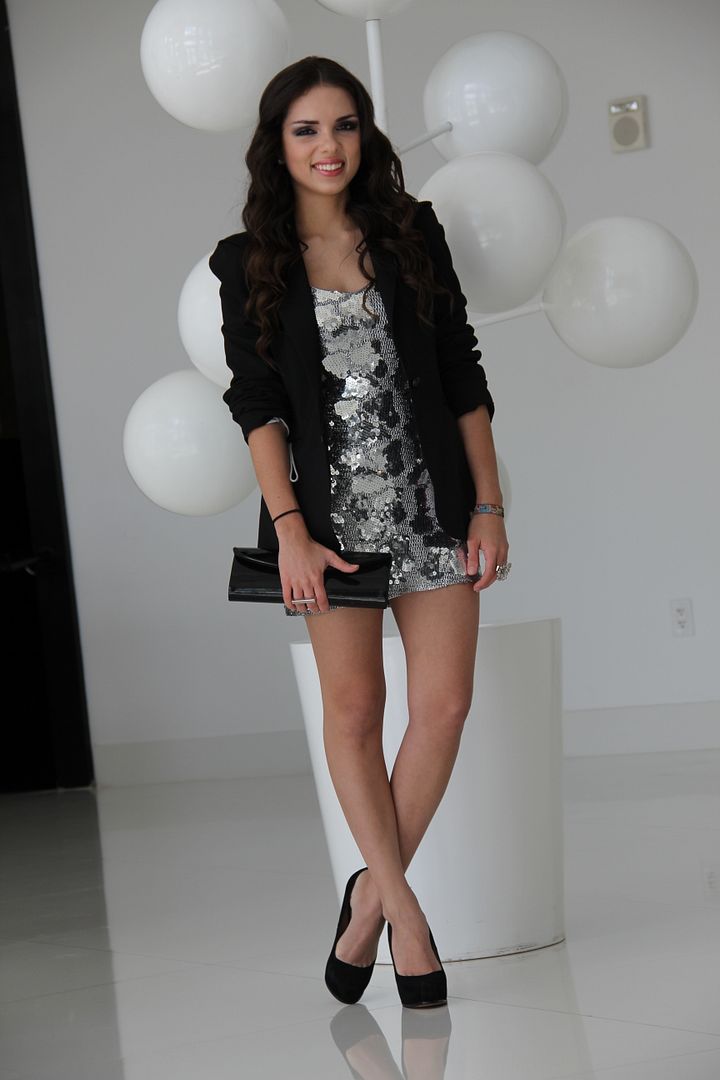 Dress/Vestido: vintage (my mom's, de mi mamá)
Zapatos/ Shoes: Steve Madden.
Blazer: Zara
Rings/Anillos: Forever 21
Bag/Cartera: Aldo
Lipstick: Covergirl "feline"