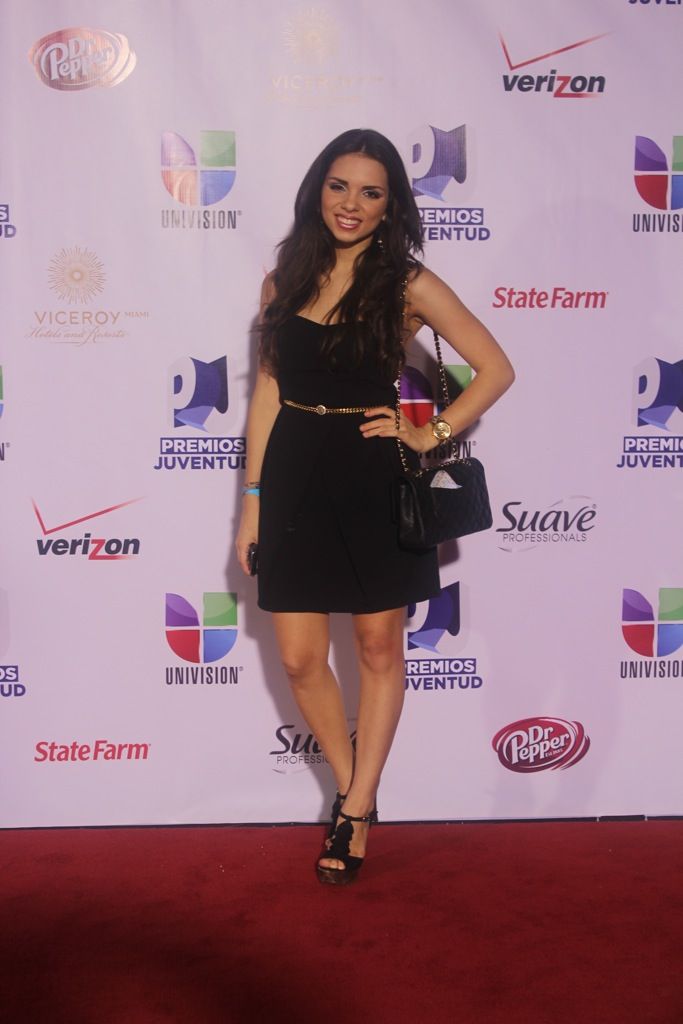 Dress: Forever 21- Shoes, Steve Madden- Belt, vintage- bag: chanel- earrings: c/o Pop of chic. Watch: louvett.
One of the best things about the blog is the amazing opportunities I've got- like being able to go to awards like this one (reason why I'm so grateful with each and everyone of you). This post is going to be a little long because I really want to share every detail of the day. I added the pics in the order they happened so it's more like a photo-diary. I hope you enjoy it!!
__________
_______________________
_________
Una de las mejores cosas del blog es la cantidad de oportunidades que me ha dado como cubrir estos premios- por lo que estoy inmensamente agradecida con todas ustedes. Este artículo va a ser un poco largo y espero que no les importe. Puse las fotos en el orden que sucedieron para irles contando (como si fuera un diario de fotos). Espero que les guste!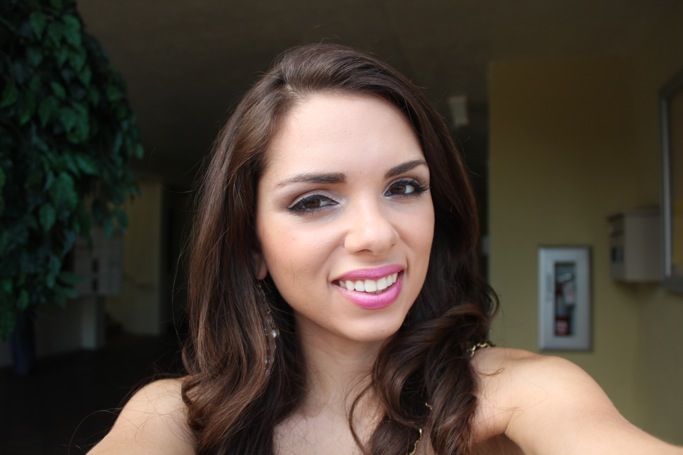 I woke up extremely late on Thursday because I knew it was going to be a long day (specially because I had to wake up at 8 am on Friday to go to class). I dressed up, did my makeup, and I was ready at 4pm (however, they didn't pick me up until 5.. miami traffic!!). I had a completely different outfit in mind for the day but the day before I found out that I needed to wear black to be in the press section. All the black dresses I have are very dressy/holiday type of dress so I decided to wear this simple dress with gold accents.
Me desperté tardísimo el jueves para poder tener las pilas cargadas y aguantar toda la noche (especialmente porque tenía clases el viernes a las 8 am). Me vestí, maquillé y peiné con toda la calma del mundo para estar lista a las 4pm- la hora a la que me iban a buscar. Decidí ponerme un vestido negro sencillo porque la prensa debía ir de negro- cosa que me limitó muchísimo porque tenía en mente un outfit super lindo (colorido como soy yo). Les agrego una foto del maquillaje también- el cabello no me duró mucho ya que la humedad de Miami está impresionante.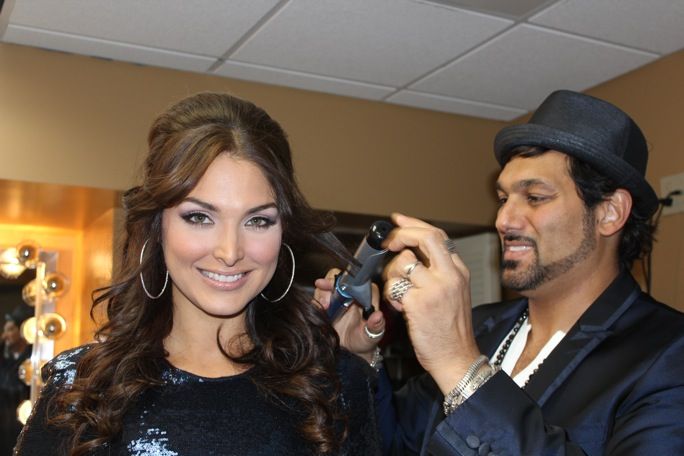 Even though I got there a little late, I was able to go backstage to talk with Blanca Soto, actress and spokesperson of Suave Professionals. Her fans voted for the hairstyle she was wearing (the other options were simple waves and a ponytail). She's gorgeous, you have no idea- the pictures do not give her justice. I talked a little with her and she was so excited to be the host of the awards!
Me fueron a buscar tarde, así que no pudimos llegar a tiempo al registro de prensa (carita triste)- pero pude entrar tras bastidores a hablar con Blanca Sot, nominada a dos premios y voz de Suave Professionals. Esa noche reveló el peinado ganador - ya que los seguidores escogieron que peinado debía usar. Ella es HERMOSA, altísima y muy simpática- estuve hablando con ella, me contó que estaba emocionadísima de ser la presentadora de la noche y nos dió un pequeño adelanto de todos sus cambios de ropa.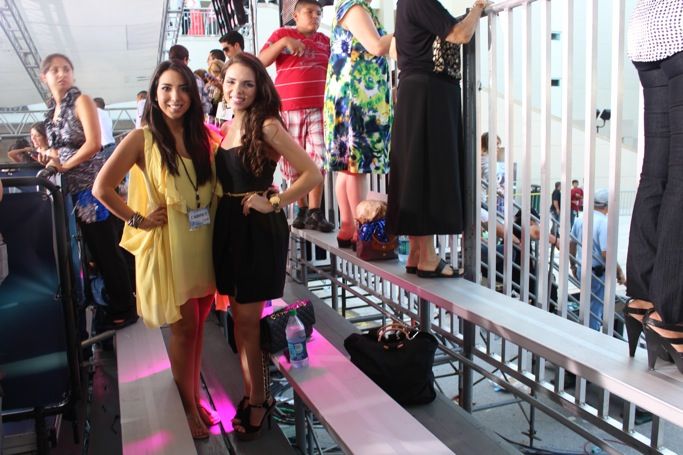 Then, we headed to the "blue carpet" but it was so hot outfits. We felt like our makeup was melting (I think it actually did!)
Después de eso nos fuimos a la alfombra "azul" pero no aguantamos mucho tiempo porque había demasiada y estaba haciendo mucho (PERO MUCHO) calor.
As you can see in the picture, you couldn't even see who was who at the carpet. I couldn't believe it when Antonio Banderas got there with Melanie Griffith- he got an important achievement award !
Había muchísima gente en la alfombra y no se veía quien era quien. Lo mejor fue cuando llego Antonio Banderas con Melanie Griffith, no me esperaba para nada que ellos fueran a los premios- pero fueron ya que el se llevo un premio muy importante reconociendo su gran recorrido como artista hispano.
When we entered the venue, there were some touch-ups stations so you could look beautiful before the show. I let the stylist do anything to my hair, which was a terrible idea. I ended up with a huge mess in my hair that included about a thousand bobby pins.
Al entrar al teatro había puesto para retocarse el cabello. Les voy a ser sincera, dejé que me hicieran lo que quisiera y termine con un peinado que no era nada yo (y me lo quité en el show, creo que tenía como mil horquillas en el cabello!).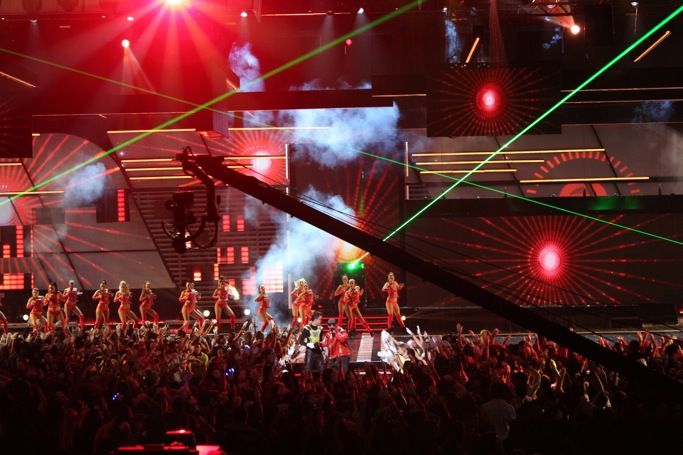 Daddy Yankee opened the show at 8pm with his new hit "Ven conmigo". I loved all the performances, specially Pitbull & Neyo's. I included a couple of pics below with some of my favorite performances.
El show empezó puntual a las 8pm, y Daddy Yankee abrió el show junto a Prince Royce cantando la canción "Ven conmigo". Después lo siguieron Fanny Lu y Natalie Jimenez.Después continúo Pitbull con Ne-Yo- para mi, esta presentación fue la mejor en cuanto a escenario, baile, vibra, la emoción de la gente. Luego cantó Chino y Nacho, Luis Fonsi, el grupo Sie7e, Dulce María, Ricky Martin, Wisin y Yandell, Romeo, y muchos más. Aquí les pongo algunos de mis favoritos.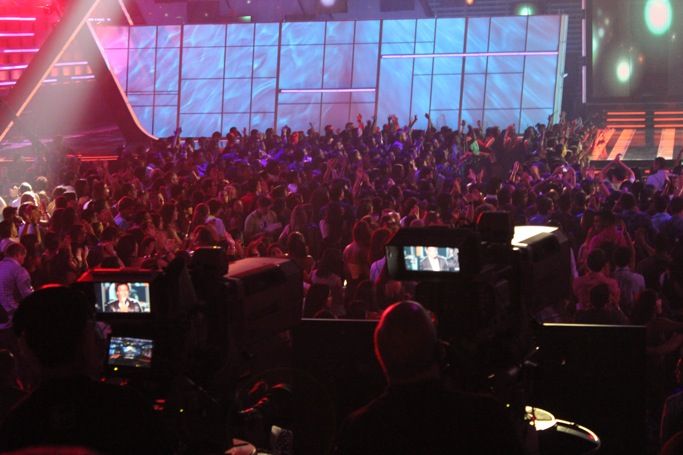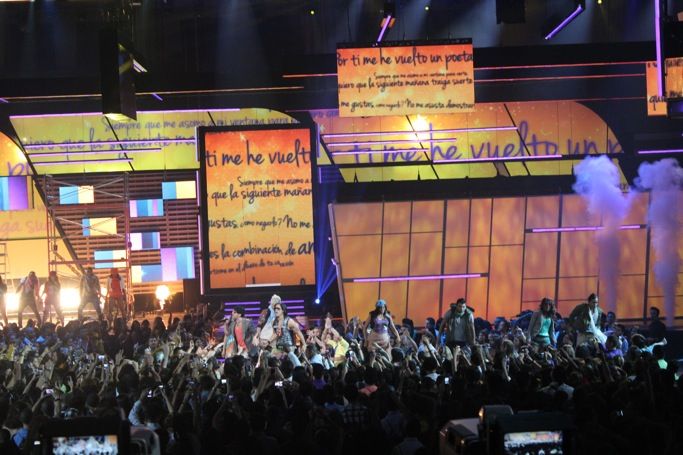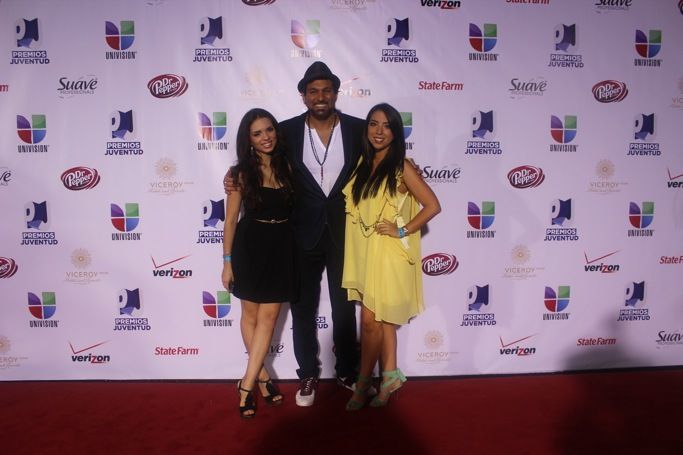 When the show ended, we headed to Univision's after party at Club 50. In the pic I'm with Mara, from the Suave Team, and with Leonardo Rocco (celebrity stylist and Suave spokesperson). I really liked that they closed one of elevators and turned it in another touch-up station (I think that's such an original product placement). Finally, there was a fun photo-booth where you could take pictures and they were instantly uploaded to your facebook!
De ahí nos fuimos al "after-party" de Univision en Club 50- y aprovechamos para tomaros unas fotitos como si fueramos celebridades. En la foto estoy con Mara- una de las chicas del equipo de Suave y el estilista de las estrellas Leonardo Rocco. Una de las cosas que me llamó la atención es que cerraron uno de los ascensores para convertirlo en otra estación de retoque de Suave (que original!). Finalmente, había un photo-booth para que uno se tomara fotos- en la de abajo estoy con todo el equipo de Suave incluyendo a Blanca Soto y a Leonardo Rocco.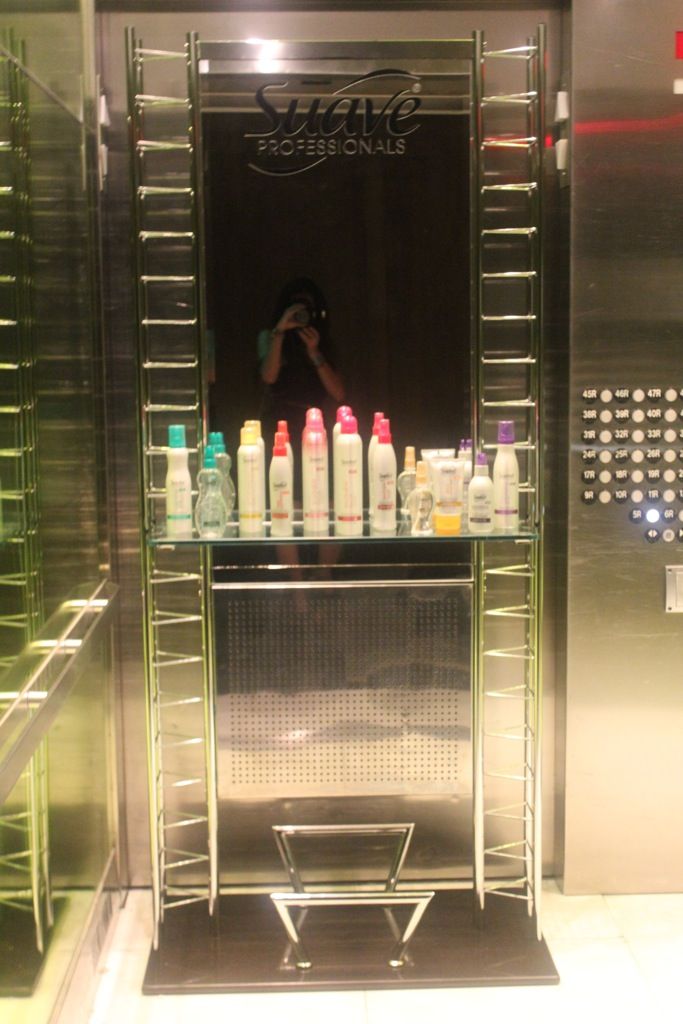 I wanted to thank Suave Professionals for this amazing invite!!
Un agradecimiento especial a todo el grupo de Suave por la invitación al evento!