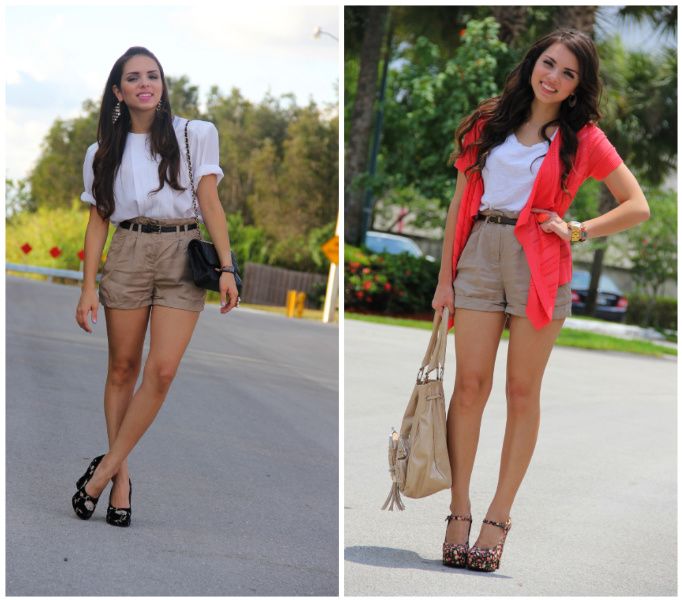 Before buying something, I ask myself: Is this really worth it? How many times am I going to wear it? Can it be worn with pieces I already own? Is it versatile? . If we buy key pieces that we can pair with different things, our closet becomes HUGE. Reason why, I wanted to show you all the different ways I've worn a piece- also, I'll include the links so you can check out the outfits if you haven't :).
Al momento de comprar algo, siempre pienso: ¿qué tanto lo voy a usar? ¿Con qué combina? ¿Combina con cosas que YA tengo en el clóset? Si compramos piezas claves, hacemos que nuestro armario sea mucho más grande. Por eso, quería empezar una sección en Nany's Klozet los miércoles en la que les muestro las diferentes formas como he usado una pieza. También quiero poner los links para que pueden regresar a ver más fotos si les interesa.
I've worn this Forever 21 shorts with white, black, stripes, lace, blazers, and fedoras. I love them because they are super comfy, high waisted (which makes my legs look longer), perfect for the Miami weather, and super versatile
Estos shorts de Forever 21 los he utilizando con blanco, negro, rayas, encaje, blazer, y fedora! Me encantan porque son cómodos, a la cintura (lo que hace que mis piernas se vean más largas), frescos (para Miami), y super versátiles!
Which outfit is your favorite? How would you wear them? I'd love to hear more ideas!
¿Qué outfit es tu favorito? ¿Cómo lo usarías? Me encantaría oir sus combinaciones e ideas!