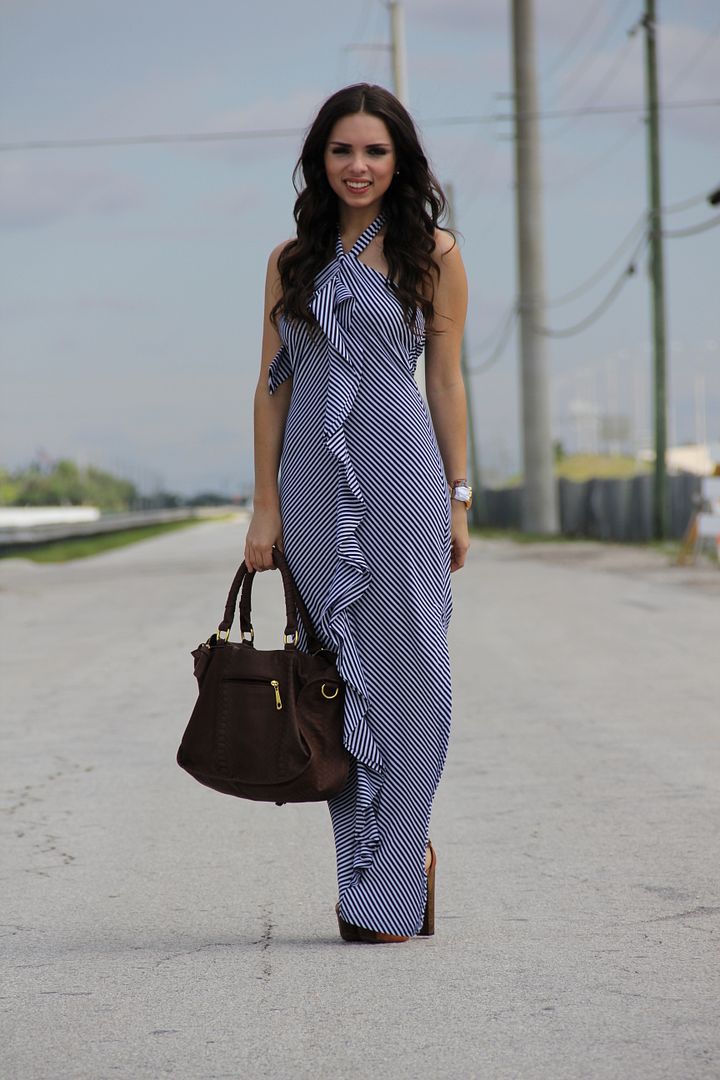 Here's a quick post with few pics but I really wanted to share what I wore yesterday because I LOVE the dress. I got it at the Furor event last Thursday - Tati, the owner- told me she thought of me when she saw that dress, so I tried it on. At first I wasn't sure because I gravitate toward the same silhouette of vintage dresses, but I took it because it's very different from all the pieces I have in my closet (and it's truly beautiful and comfy). I let the dress be the center of attention by adding few accessories. Also, I wanted to style my hair differently- as you can see, I've been sporting the bangs a lot (if you do not know, they are clip-on bangs from the Jessica Simpson collection). About my day: I had lunch with my bf at Giardinos, a salad restaurant ( we wanted to have something lite because we were going to a bbq at a friend's house). Later on, we went to our friend's house, ate hamburgers like crazy, and watch a movie. Xoxo!
Aquí les traigo un post rapidito y con pocas fotos pero no quería dejar de compartir con ustedes lo que me puse ayer. En evento de
Furor
, me probé este vesitdo porque Tati- la dueña- me dijo que apenas lo vió pensó en mi. Al principio no estaba segura porque no es algo que utilizaría regularmente- al mismo tiempo me probé varios vestiditos vintage con siluetas similares a las que ya tengo en el closet. Razón por la que decidí llevarmelo, porque es algo totalmente diferente a lo que tengo en el closet (y aparte super lindo). Quería que el foco del outfit fuera el vestido, por eso lo combiné con pocos (o casi nada) accesorios. También quise hacerme ondas y cambiar el look con pollina (fleco, flequillo, cerquillo, etc), que he estado usando en los últimos outfits. Sobre mi día: primero fui a comer a un sitio de ensaladas (bastante light porque sabiamos el comidero que venía después)- luego en la tardecita fuimos a casa de un amigo porque estaban cocinando hamburgesas y estuvimos ahí hasta la noche. Lo mejor de todo es que mañana es memorial day - entonces hoy no "es" domingo! Un abrazo a todas!
Shoes/Zapatos: Jessica Simpson "Dany"
Watch/Reloj: Louvett