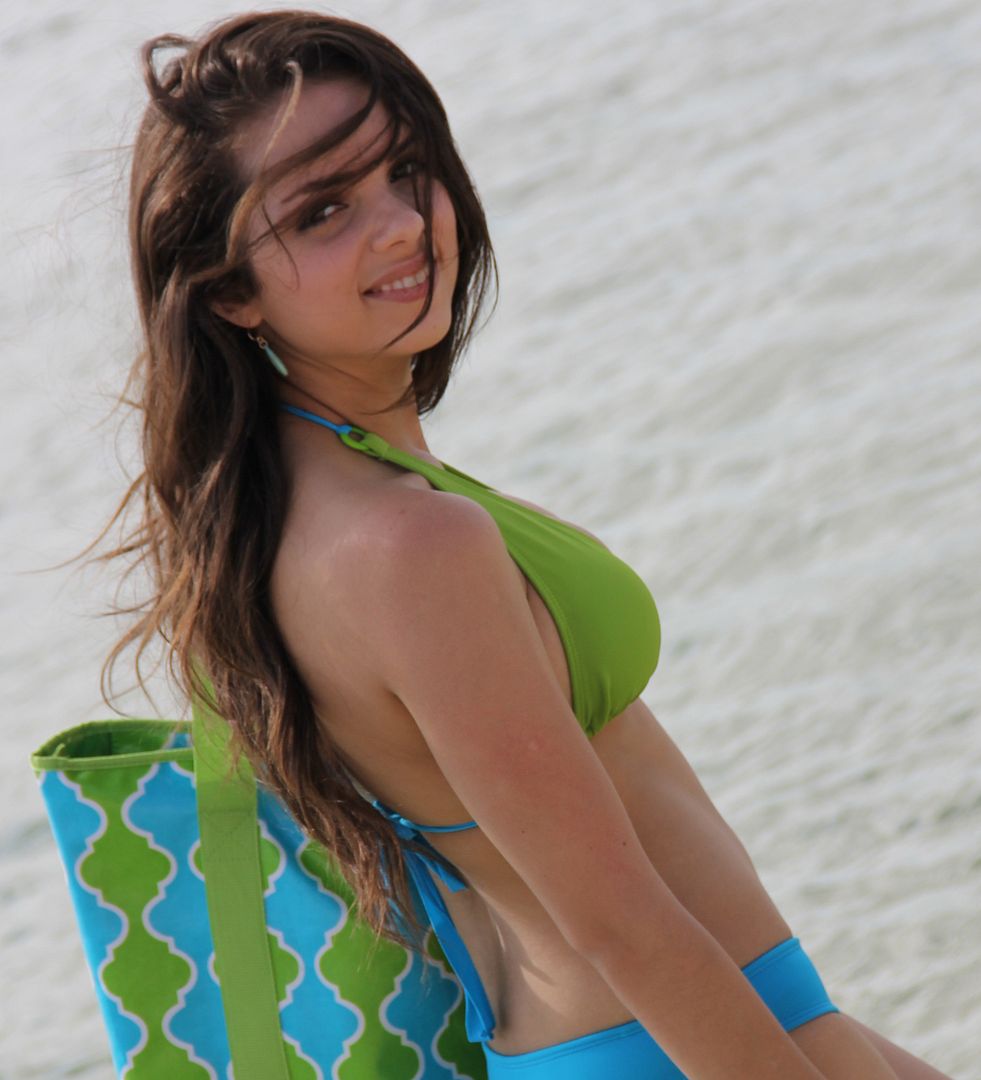 Yesterday was "Memorial Day" and it was beautiful outside - since Miami Beach was about to explode, we decided to go to my neighboorhood's pool (and to the fake beach beside it, it's actually a huge lake). I wanted the pictures to be natural and not-posy, I'm extremely shy and obviously it's hard to post swimsuit pictures online - so please, be kind! Choosing what to wear, I realized that I was going for the "matchy- matchy feel", I love how the swimsuit, the bag, and the accessories are exactly the same colors. We took these pictures when we were about to leave (we were starving!), don't worry I had shoes and a cover up inside the bag. We ate at a colombian restaurant.. delicious! I like to put below all the pictures the brand or where I got the items, but this time I have no idea where I bought the swimsuit or the bracelet (I know it was 3 years ago at Caracas, Venezuela). The bag was gifted by the Unilever team at an event, it was full of beauty products; but it's perfect for the beach. I got the watch at Forever 21 last year and the earrings are from
Mimi Boutique.
Ps: after taking a couple of pictures, I grabbed the camera and started snapping pics of my bf "modeling", so you'll see him below goofing around!
Ayer fue dia festivo en USA y el día estaba espectacular- ya que Miami Beach estaba apunto de explortar, decidimos pasar la tarde en la piscina y playa falsa (es un lago con arenita pero parece una playita). Quería que las fotos fueran bastante naturales y que no estuviera posando- me da muchísima pena salir en traje de baño aquí ( no tienen idea!!)). Escogiendo que ponerme fue comiquísimo porque me di cuenta que estaba toda "matchy-matchy", los colores del traje de baño son idénticos al del bolso de playa y a mis accesorios (el reloj y la pulsera). Aquí ya nos estabamos yendo a comer, fuimos a un sitio colombiano después (tenía un vestidito blanco sencillo y unas cholitas en el bolso). Después de tomar algunas fotitos, le quité la cámara a mi novio y le dije que era "su turno de modelar", agarró el bolso y lo pueden ver abajo payaseando un poco jaja. Me gusta poner siempre debajo de los post de donde es todo lo que llevo puesto pero hoy... NO TENGO NI IDEA. El traje de baño y la pulsera verde los compré en una tiendita mínima en un centro comercial de Caracas hace como 3 años, el bolso me lo regalaron en un evento de Unilever-adentro estaban todos los productos de belleza (pero me pareció perfecto para la playa). Lo que si se: el reloj es de Forever 21 y los zarcillos/aretes de
Mimi Boutique.