There are some days that I just stare at the
klozet
fighting with own thoughts debating if I should wear what I really want to wear or if I should try something different to give variety to the blog....Friday was one of those days. So this is me...wearing a skirt that I wore last week, and a top that has been featured three times in the past two weeks (yes...three times already). At the same time my boyfriend was telling me "
but that's you, that's what Nany's Klozet is all about...remixing
" and I was like "
I know but I need to space them out a little haha
". So this time I wore this asymmetrical red skirt with a denim top and brown accessories. The sunglasses were a gift from a close friend from college that just opened her online store called
Vanity Gal,
check her out..I'm very proud of her!
I wore this outfit to the Jennifer Lopez and Enrique Iglesias concert, I had so much fun. I especially liked Enrique's performance, his interaction with the audience was incredible ...he was truly amazing! On the other hand, JLo disappointed me a little....she looked amazing on the concert screens but it was all about HER. I'm gonna add some pictures of the concert below and a picture with Gabo- you have to check out his outfit, I got him the super cool pants! Ok...that's it! Hope you had an amazing weekend! XOXO!
__________
Creo que ya les he mencionado, hay días que me da una confusión mirando al klozet debatiendo si debería usar lo que realmente quiero usar o usar cosas diferentes para no aburrirlas y darle variedad al blog... el viernes fue un día de esos. Así que aquí estoy yo...usando la misma falda que usé la semana pasada y un top que ha salido tres veces en menos de dos semanas (sii!! tres veces). Al mismo tiempo mi novio me decía "pero de eso es lo que se trata Nany's Klozet de re-usar" y yo le decía "siii pero no tan seguido!!!" jajaja. Esta vez utilicé la falda roja oscura asimétrica con un top de denim, accesorios café, y dorados. Los lentes de sol fueron un regalo de una amiga a quien quiero muchísimo, estudiamos juntas en la universidad y acaba de abrir su propia tienda online: Vanity Gal (pasen por ahí, estoy super orgullosa de ella).
Esto fue lo que utilicé para ir al concierto de Jennifer Lopez y Enrique Iglesias, la pasé genial. Especialmente me gustó todo el segmento de Enrique, me sorprendió su interacción con el público (hay una foto que puse en Intagram que parece que me esta señalando y todo <3 <3 ). Lo que me decepcionó de JLo es que era un show para las cámaras, se veía WOW en las pantallas del concierto pero al verla desde la silla... no se ... faltaba algo! Ok ya escribí mucho, espero que hayan tenido un fin de semana espectacular! Abrazos inmensos a tod@s!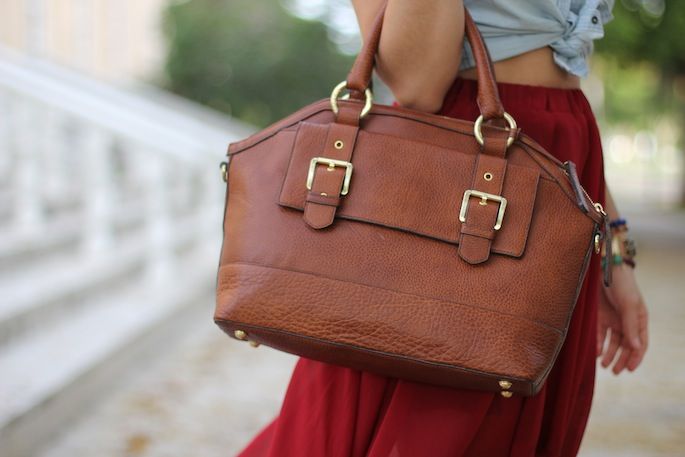 Steve Madden shoes
Asymmetrical red skirt: c/o
Romwe
Shoes: Steve madden
Bag: c/o
Brahmin
"Dakota Satchel"
FOLLOW ME ON INTAGRAM @NANYSKLOZET