This week was a little chaotic for me, I had to leave my apartment for safety reasons (because of heavy rain, water was coming inside to the fuse box... and electricity and water are a big no-no together!!) After turning the power off, I barely could find anything in my closet so I went for new pieces: this sheer dress and Wild Pair heels to add a little bit of print to a solid look. Because of the crazy rush, I forgot my curling iron so I could fix what the crazy rain did to my hair.... reason why I felt like I had kind of a "helmet hair"...but whatever haha. I wore this to go out to eat, come back home and then pick my mom from the airport (I'm so happy she's here!). Have an amazing weekend ! XOXO
BTW, I was supposed to cut my hair yesterday to donate it to cancer patients. However, the organization told me they were unable to accept my hair because I got the Keratin treatment a while ago- which has me super sad because I really wanted to make a small difference. So I've been thinking and I really want to do something like donating the profit I make from selling some of my clothes- or doing a fun event and the entrance fee will go to some organization... we'll see! I'll let you girls know!
______________
Esta semana fue un poco caótica, tuve que "evacuar" mi apartamento otra vez porque por culpa del condominio está entrando agua al panel de electricidad...lo que es un peligro. Tuve que irme a casa de mi novio, y este vestidito fue lo primero que vi....luego rapido agregué accesorios marrones y mis zapatos nuevos de Bakers (que le dan un toque de estampado a un look tan sólido). Una de las cosas que se me olvidó llevar fue mi rizadora y justo el día anterior llovió, lo que hizo que odiara estas fotos porque parece que tuviera un casco de cabello jajaaj. Pero bueno; esto fue lo que utilicé para ir a comer, regresar a mi casita y buscar a mi mamá al aeropuerto en la noche (lo que me tiene feliz porque me está consintiendo!). Espero que pasen un feliz fin de semana!! Besos y abrazos!
Por cierto, el corte de cabello que les había mencionada tuvo que ser pospuesto- porque la asociación de cáncer me dijo que no lo podían aceptar por haberme hecho la queratina hace unos años. Lo queme tiene muy triste, pero estoy pensando que puedo hacer para lograr una diferencia. Tengo varias ideas, como vender cosas que no uso y donar el dinero que haga- hacer un evento de intercambio de ropa.. e igual que lo que la gente pague iría para alguna organización. Ya veremos, las mantengo al tanto de todo!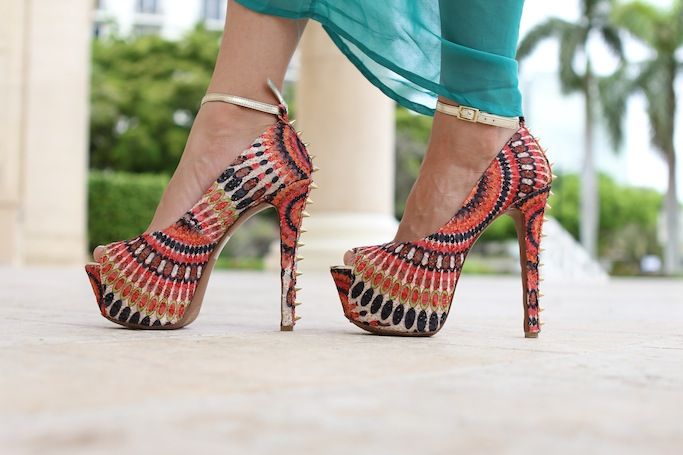 Shoes: Wild Pair (c/o
Bakers)
Dress: c/o
SheInside
Belt: came with another dress.
Bag: c/o
Mimi Boutique "Antonia Satchel"
Watch: Swatch
Earrings: c/o
Mimi Boutique